Read time: 10 minutes 

Jewelry has always been used to symbolize emotion as well as style. There are many moments in cinema where jewelry is used to illustrate a pivotal moment in a character's story. Costume designers use jewelry to express a character's personal style and identity. Also, who doesn't want to look at famous faces like Marilyn Monroe, Audrey Hepburn and Sarah Jessica Parker adorned in dazzling gems! 

In today's article, we brake down the top ten iconic jewelry moments in film. PLUS, we have included much more affordable dupes, so that you can have your glamorous moment without the expensive price tag! ;) 
#10 How to Lose a Guy in 10 Days
In this cult romcom, Matthew McConaughey plays an ad-man who tries everything he can to make Kate Hudson's character fall in love with him in 10 days. His many impressive acts include adorning her in the Isadora Necklace, named after Isadora Duncan, acclaimed American dancer. This one-of-a-kind 84 carat yellow diamond piece was designed by Harry Winston and is worth about $6 million. It is the most expensive piece of jewelry ever created for a movie!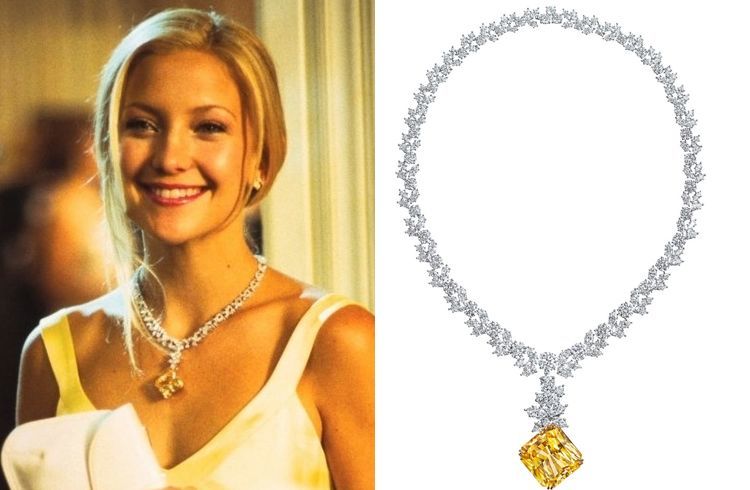 If 84 carat yellow diamonds are outside your budget, why not try citrine? Citrine is a gorgeous yellow stone that adds a little sunshine to your jewelry collection. Our Cushion Yellow Citrine and 10K Yellow Gold Pendant will brighten up any outfit. 
#9 Sex and the City 
When Mr. Big FINALLY got on one knee and proposed to Carrie Bradshaw (Sarah Jessica Parker), fans everywhere held their breath in anticipation. Luckily the engagement ring was a universal hit, matching Carrie's personal style in its uniqueness. Set in 18k white gold and 80 pave diamonds, jewelry designer Itay Malkin worked with Sarah Jessica Parker and Patricia Field to create the ring.  When Carrie asks Mr. Big, "Why black?" he replies, "Because you are not like anyone else." After the film's release, black diamond rings had a surge in popularity. 
If you find that black diamonds are outside your budget, onyx is a wonderful alternative. Onyx is perfect for engagement rings as it is thought to be a protector of harmonious relationships.
These onyx engagement rings by Gem Stone King replicate a similar style to Carrie's. 
#8 Girl with a Pearl Earring
This moment is more subtle than other features on this list, but just as iconic! The film is based on the renowned painting by Dutch artist Vermeer, as well as the alleged romance between the artist and his subject. The romance between the pair on screen adds incredible emotion and meaning to the simple pearl earrings, which are centric to the entire plot.
If you want to emulate the subtle elegance of the "girl with the pearl earring," we have a delicate pair of 14K Yellow Gold and Freshwater Pearl earrings that will do just the job! 
#7 Cleopatra 
When we think of celebrities with a penchant for jewelry, Elizabeth Taylor is one of the first who comes to mind. As the lead in Cleopatra, and a prominent jewelry collector, it makes perfect sense that her character would be  constantly adorned in the finest jewels. Taylor went through 65 costume changes throughout the film to embody the character of Cleopatra. Even though the film cost $44 million to make (about $300 million today), all the pieces in the movie were costume jewelry.
Taylor was a devotee to the fashion house of Bulgari and much of the jewelry in Cleopatra was inspired by the Italian designer's style. You can get the Cleopatra/Bulgari look using chunky gold jewelry or layering several gold bracelets, necklaces and rings. Gold cuffs, like the one below, are particularly featured in this movie. 
#6 Sex and the City 
Yes this is the second time we mention Sex and the City, but the show has so many memorable fashion moments, we couldn't resist! Carrie's name necklace is a regular fixture throughout the show and is a symbol of her individuality. We are told that Carrie purchased the necklace for a few dollars at a fair while shopping with her friends. But the item gains significant sentimental value throughout the show, becoming part of her identity. It shows that jewelry doesn't need to be expensive in order to be valuable.
Gem Stone King have recently released a new line of sterling silver necklaces and bracelets that come with free custom engraving. These items come in yellow-gold and rose-gold plating, as well as 925 sterling silver. They also come with a selection of charms and gemstones. Get your name engraved and make your own nameplate necklace!
#5 Pretty Woman 
People love a rags to riches story, and Pretty Woman is no exception. Julia Roberts' character, a kind-hearted escort, gets to grips with the high-class society she is being thrusted into by her new love, played by Richard Gere. There is a key scene in the film where he gifts Julia a stunning ruby and diamond necklace. The necklace was custom designed for the film by French jeweler, Fred Joaillier, and consists of 23 pear-cut rubies set in diamond-encrusted hearts worth about $1.35 million. The necklace was so valuable that the jewelry store loaning the piece sent a private security guard to stand next to the director during filming to ensure it remained safe! 
If you can't stretch for a ruby and diamond necklace, we have this Created Ruby and Zirconia Tennis Bracelet that's sure to add glamor to any look! 
#4 Lord of the Rings  
This one is pretty self-explanatory! The outstanding movie franchise centered around the story of a ring. This ring was the center point of each of three movies in the series, as we followed the battle between those who wanted to use it for evil and those who wanted to destroy it for good. The ring itself was made by Gold and Silversmith, Jens Hansen. It's considered  the world's most famous ring, its unique, simple shape recognized around the globe.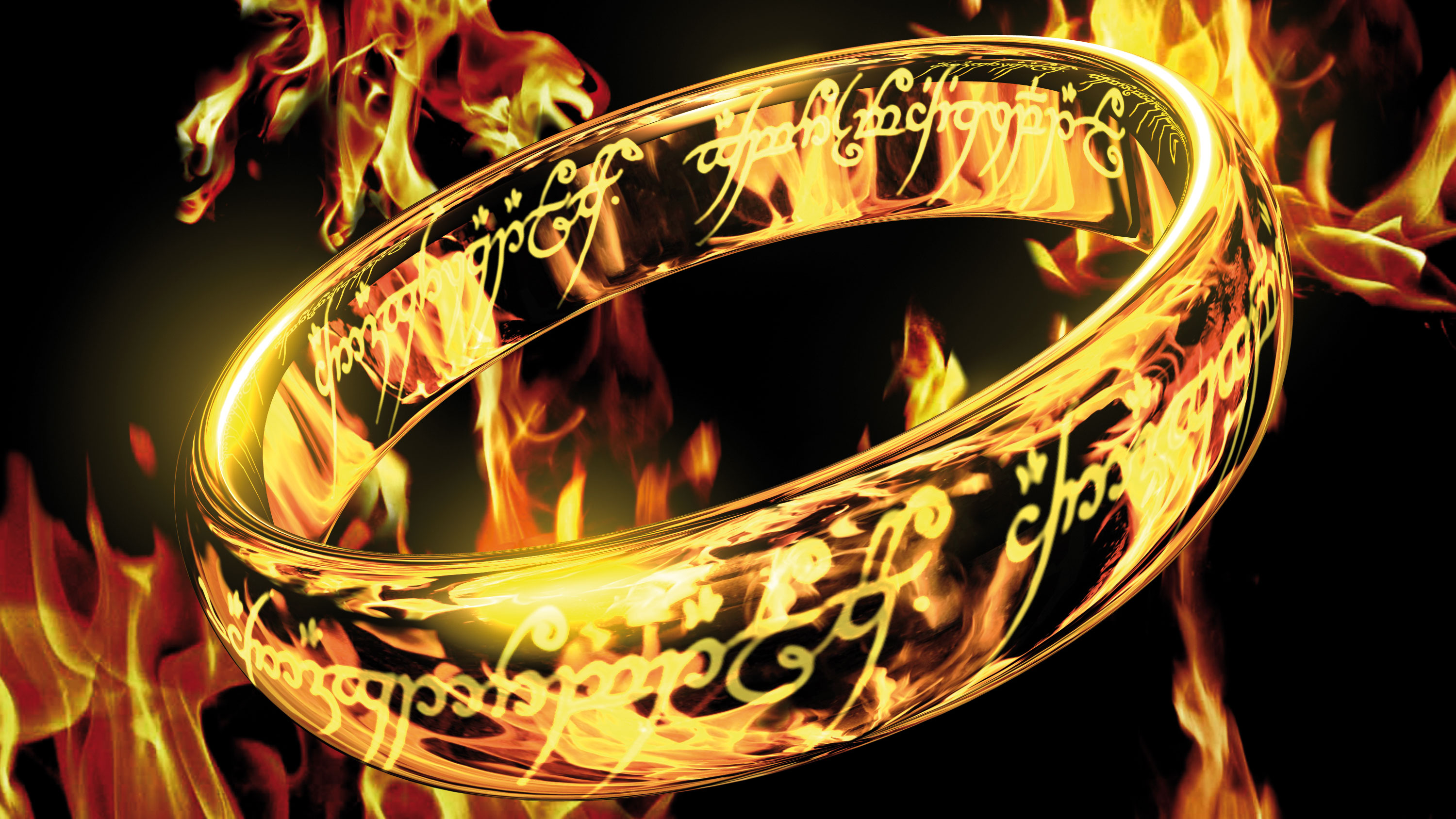 Gold rings are a time-honored classic, primarily used as a symbol of commitment in wedding ceremonies. We have an extensive range of gold rings, some of which you can engrave your own message, to make the piece truly "precious." 
#3 Gentlemen Prefer Blondes
"Talk to me Harry Winston, tell me all about it." Marilyn Monroe addresses "the King of Diamonds" as she dances the red carpet in this classic flick. This famous scene where Monroe sings "Diamonds Are A Girl's Best Friend" defined the "diamonds are forever" motif of the 1950s. Dressed in that iconic pink satin gown, Marilyn is decked out in diamond jewelry. Among the many necklaces is one that's truly notable - the Moon of Baroda. Possibly the oldest piece of fine jewelry ever worn for a movie, this 24.04ct pear-shaped, yellow, canary diamond necklace has had many famous wearers, including Marie Antoinette. Beautiful yet dangerous, the necklace is supposedly cursed, according to Hollywood legend. 


We have an elegant collection of pear-shaped moissanite pendants that will allow you to feel as glamorous as Marilyn. It may not be diamonds, but at least it's not cursed!
#2 Titanic 
Who can forget "The Heart of the Ocean," Kate Winslet's gift of treasure from this epic blockbuster. In the film, the blue diamond necklace is said to have originally belonged to King Louis XVI. In reality, it was made out of zirconia and white gold. It was, however, inspired by the Hope Diamond, a world-famous blue jewel that has passed from French Royalty in the 1800s to the Smithsonian Institute today. After the release of "Titanic," Asprey & Garrand, the original designers of the necklace, made a replica of it with real jewels and precious metal. The replica necklace featured a 171-carat heart-shaped sapphire surrounded by 103 diamonds, all set in a platinum necklace.

Naturally, several replicas of the stunning blue Heart of the Ocean were made and sold after the film was released. Get the look with this simulated sapphire heart shaped pendant. 
#1 Breakfast At Tiffany's
"I'm just CRAZY about Tiffany's!" exclaims Holly Golightly. You can't think about this Audrey Hepburn classic without jewelry coming to mind. The proof is in the title! The movie opens with Hepburn wearing a little black Givenchy dress and a lot of glamourous jewelry. Layer upon layer of lustrous pearl necklaces and tiaras stacked with sparkling diamonds, the movie launched a new wave of style that defined Hollywood in the early 1960s and is still emulated today.
If you're looking to mimic the chic and elegant styling from Breakfast at Tiffany's, we have a delicate 14k Yellow Gold and Freshwater Pearl set that will upgrade any little black dress. 
So why not treat yourself to piece of glamorous jewelry and feel like a movie star!